High Performance 100Mbps Surge Protector

DIN Rail Mounted 100Mbps Surge Protectors
High Performance 100Mbps surge protector devices protect high speed data transmission circuits and equipment from transient voltage activity between terminals and equipment in the data transmission and collection system.

Annually, damage caused by transient voltage over unprotected data lines costs commercial business, industrial entities, governments and homeowners hundreds of millions of dollars.
Protecting these valuable high speed data lines, communication equipment and systems is no longer just an option. In today's high tech world of sensitive electronics it's become a necessity.
However, the 100Mbps surge protector device needs to be the Right SPD placed in the Right Location to deliver the Right Results.

Get the Right Gear!TM
100Mbps Surge Protector Versatility & Reliability

Our High Speed, 100 Mbps SPDs are designed for commercial, industrial, military and residential applications. The unique designs and options make these units some of the most versatile and reliable devices in the industry.
High Speed Data Protection Device Designs can include:
Optimal Response NetworkTM
Series Wired, Hybrid Design
2/10/100Mbps

UL497A, UL497B
Industry Lowest Let-Through Voltages
Dedicated All-Mode Protection Circuitry:  Normal (L-L) and Common (L-G)

Maximum Continuous Operating Voltage:  5, 7.5, 12, 24, 48, 57, 62, 140 and 200 Volts
Maximum Continuous Operating Current:  500mA, 1.5A and 5A
Connection Method:  Terminal Strips, Touch Safe Terminal Strips, Detachable Wire Clamps, RJ45 Modular
Wire Line Capacity Per SPD:  1 pair, 2 pair, 3 pair, 4 pair, 5 pair +
RJ45 Capacity Per SPD:  1, 3, 12, 24 (12/24 Rackmounts)
All 8-Pin Protection

Patented Encapsulation Technology
Sidactor Technology

DIN Mount, Mounting Feet
No Hassle Warranty

In addition, these High Speed Data SPDs deliver superior performance specs and warranty. For more information please contact us.
Get the Right High Speed 100Mbps Surge Protector

SPDs are NOT created equal. If you want the Right Results, you need the Right SPDs installed in the Right Location. We design, build and deliver the Right 100Mbps Surge Protectors.

Protecting against large transients, especially lighting generated events, robust, high speed, data surge suppressors with High kA Ratings, true All-Mode-Protection design and Circuit Encapsulation provide a distinct advantage over competing devices.
Our data SPDs are specifically designed for applications and protection needs of commercial, industrial and military data transfer/collection systems. Top of the line Data Units are High Quality, High Performance devices that deliver what others promise.
Data Surge Protectors backed with the industry leading 25 Year "No Hassle" Warranty.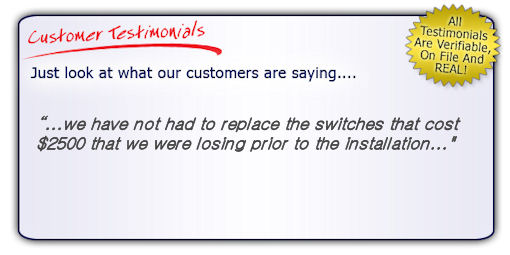 The right High Quality, High Performance surge protector will properly address high speed data line equipment and system protection needs.
Don't settle for just any 100Mbps Surge Protector. Contact us today.

Our gear is... often imitated... but rarely duplicated...
The Surge Stops HereTM

Get the Right Gear!TM
| | |
| --- | --- |
| High Speed Telco, Data and Transfer System SPDs. Get the Right Gear! | |
Return from 100Mpbs Surge Protector to Best-Surge-Protector Home