High Quality POTS Line Surge Protectors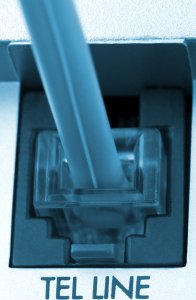 POTS stands for - Plain Old Telephone Service. Its more frequently referred to as a standard phone line or an analog line.

These are the familiar circuits and lines used by business and homes primarily for voice communication. This leads to the classification of voice grade. Today, it's considered an older technology.

However, data (fax), the internet and other types of communication scenarios are still using this technology.
Even though the technology is considered somewhat outdated, it continues to be heavily used and is very reliable.
The reliability and reasonable cost of the Plain Old Telephone Service can be seen, to a small degree. as an advantage over newer types of communication systems.
In addition, it's generally more readily available in most areas, primarily in rural locations.
Lightning Strikes Damage POTS Equipment

Regardless of the use for this type of communication line, it's vulnerable to transient voltage activity. These lines should be protected as they provide a direct pathway for expensive equipment to be seriously damaged.
The primary culprit for serious equipment damage comes from lighting strikes.
The best option is to protect the telephone line at the entrance point of the building or home with the properly designed Surge Protective Device (SPD).
This installation location helps prevent the power surge from moving much beyond the point of demarcation within the structure. It's the best option for saving business phones, home phones or other line connected equipment from serious or catastrophic damage.
A second SPD nearest the sensitive equipment is recommended for additional protective measures. This provides an additional second level of protection per IEEE recommendation. 
High Performance POTS Surge Protectors

Get the Right surge protection. Install High Quality, High Performance surge protectors that deliver Real Results.

High Performance SPDs are series wired, parallel connected, hybrid designs. Units incorporate True All-Mode Protection and utilize industry leading Optimal Response Circuitry™.
Suppression circuits are encapsulated in a patented, Electrochemical, high dielectric compound. This assures long component life, protection from environmental factors, vibration and improves device performance.
Connection methods available include:
Punch Down Block configurations (5-25 lines)
Terminal Strips
Touch Safe Terminal Strips
Detachable Wire Clamps
RJ11 & RJ14 Modular Jacks
DIN rail mounts available, providing an additional SPD installation option.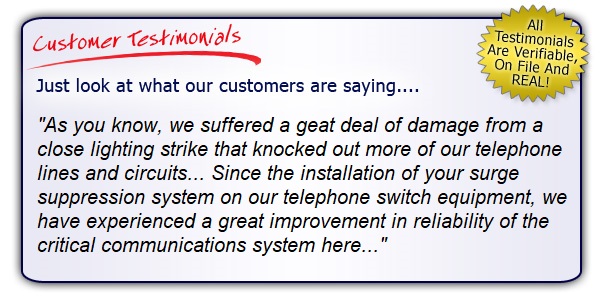 High Quality, High Performance units are backed with industry leading 25 Year No Hassle Warranty.
The best surge protection options secure POTS systems functionality and reliability. Leading SPD designs are backed with 30 years of design and field experience and supported by the industry's most experienced staff.
Our gear is... often imitated... but rarely duplicated...
Get the Right Gear!
| | |
| --- | --- |
| High Quality High Performance Data & Telephone Line Surge Protectors | |
Return from POTS to Best-Surge-Protector Home