High Performance 3-Phase 120-240 High-Leg Delta Surge Protectors
When surge related disrupts, downtime and equipment damage are unacceptable Get the Right Gear!TM Install High Performance, All-Mode, Parallel Connected 3-Phase, 120-240 High-Leg Delta Surge Protectors.
SPDs incorporate patented, internal, circuit-board mounted, over-current fusing with component-level, thermal fusing (SCCR 200kA). Fusing, circuit-board and protection components are Electro-Chemical Encapsulated.
Both Voltage Responsive/EMI/RFI units and advanced Microprocessor/Server Grade Protection units available for High-Leg Delta system location categories A, B, C.
Available options include: DRCs, Enclosure Type, Hub Type, Hub Location, Status/Alarm Indicators, Internal/External Disconnects.
General Loads: Voltage Responsive/EMI/RFI
Type 1, Type 2, High kA, EMI/RFI, Multi-Stage, Hybrid Design, built to protect general loads and building wiring from high energy, external surge events. Applications intended for main service panels, distribution panels, branch panels, motor control centers and individual equipment disconnects.
Microprocessor/Server Grade: SineWave Tracking/FRC
Type 2, Advanced Sign Wave Tracking Models (Optimal SignWave TrackingTM | Frequency Responsive CircuitryTM) specifically designed for electronics and microprocessor applications. Industry leading RingWave (internal switching/oscillating transients) Protection Circuitry. Combined with All-Mode Designs and Voltage Responsive Technology, these 3-Phase, 120-240 High-Leg Delta Surge Protectors provide superior protection.

Application points: MMCs, distribution panels, sub-panels and equipment disconnects feeding critical electronic process systems.
3-Phase 120-240 High-Leg Delta Surge Protector Advantages
High Performance (10 Mode), 3-Phase, 120-240 High-Leg Delta Surge-Protector Designs incorporate Discrete All-Mode Protection. This means individual protection elements in all modes. In a High-Leg Delta system, there are 10 modes: 3 L-N, 3 L-G , 3 L to L and N-G.
Discrete All-Mode Protection is recommended by ANSI/IEEE Std. 1100-2005. Design improves SPD durability, longevity, reliability and performance.
Additional Design Advantages:

Multi-Stage Voltage Responsive Technology Design
Multi-Stage Advanced SineWave Tracking/FCR Technology Design (Full Spectrum ProtectionTM)

No Moving Parts. No Mechanical or Electro-Mechanical/Thermal Over-Current Protection
Encapsulation Technology
25 Year No Hassle Warranty
Listings may include: ANSI/UL 1449, UL1283, UL 96A Master Label, CSA, ISO 9001 Certified Manufacturing Facility by NQA
Get The Right Gear!
Get the markets most Advanced Technology and largest selection of SPD Options for 3-Phase, 120-240 High-Leg Delta Surge Protectors.
SpecPro, 10 Mode and Advantage® Series units are the most complete SPDs available today. Expressly designed to protect sensitive power equipment and critical electronics from surge related damage the competitors miss.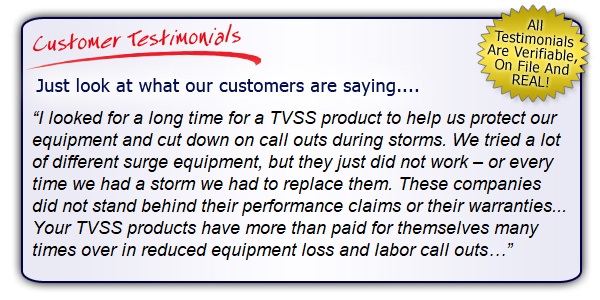 Our gear is... often imitated... but rarely duplicated...
The Surge Stops HereTM
Get the Right Gear!TM

Return from High Performance 120-240 High-Leg Delta Surge Protectors to Best Surge Protector Home