Split Phase and Single Phase Surge Protectors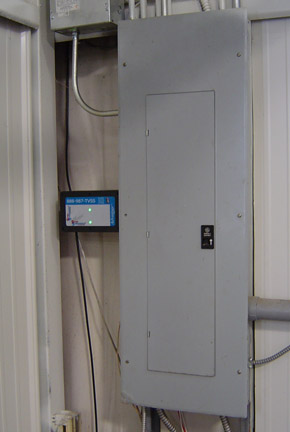 High Performance Split Phase and Single Phase Surge Protectors safeguard commercial, industrial and residential electrical systems from the ever increasing dangers of surge related activity.
Transient Voltage is responsible for billions of dollars of equipment damage and downtime annually. In active commercial and industrial environments the amount of surge activity can be staggering. Residential settings can also see surprising levels of activity as well.

Reduce equipment damage, replacement costs and downtime. Improve equipment efficiency and reliability with the proper application of Surge Protective Devices (SPDs).
However, they need to be The Right Split Phase and The Right Single Phase Surge Protectors. Additionally, they need to be installed in The Right Locations to deliver The Right Results.
Definition: Split Phase vs Single Phase

Definitions: Split-Phase: 2 hots, neutral + Ground. Single-Phase: 1 hot, neutral + Ground.

Unlike 3 Phase AC power, Split Phase applications won't have different voltage configurations. Power is delivered to various equipment at the same voltage (120/240VAC-USA/North America). Small office and Residential Systems are typically Split-Phase.

Single Phase AC Power can be delivered to various types of equipment at 120VAC or 240VAC.

Advanced Split Phase and Single Phase Surge Protectors
Quality, performance and effectiveness for both Split Phase Surge Protectors and Single Phase Surge Protectors differ by manufacturers. At times, the differences can by quite pronounced.
For industrial and commercial environments, there are multiple SPD designs available. Split Phase and Single Phase SPDs that effectively defend against multiple types of transient voltage directly, in all modes, provide the highest level of equipment protection.
Important Note: Few Single Phase or Split Phase surge protectors defend against Multiple Surge Types. Especially RingWave activity. This includes surge protectors with EMI/RFI Technology. Our SPDs do.
Note: Equipment level, Single Phase, 120VAC or DCV ≤ 30 Amp circuits can be individually isolated. Our Advanced Series SPD application delivers superior, critical system surge protection for microprocessing circuits.

Single Outlet Surge Protectors

Single-Phase Plug-In or Single Outlet Surge Protectors (point of use) are typically mass produced, commodity type items. These devices are usually available at the nearest retail and big box stores or online.
Most retail level units have Standard Clamp Tech with some EMI/RFI Circuitry included. High Performance, Single Outlet Surge Protectors are scarce at the retail level and can be a bit harder to find online unless you know what to look for.

Advanced, 120VAC, 15Amp, Single Outlet Surge Protectors with Dual-Receptacle or 6-Receptacle configuration can be found here.

Get the Right Surge Protector. Get the Right Results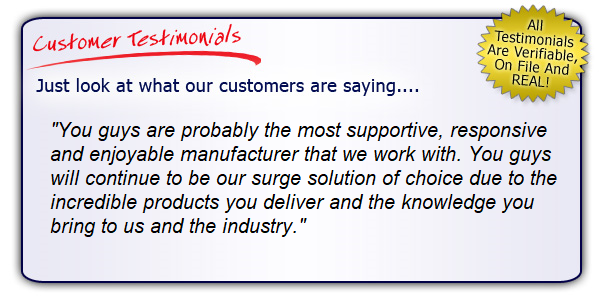 Get the markets best design and most Advanced Technology with the largest selection of SPD Options for Split Phase and Single Phase applications.
All-Mode, Data Line and Advantage® Series units are the most complete SPDs currently available. Devices are expressly designed to protect sensitive and critical power equipment from multiple surge related activities.

High Performance Single Phase and Split Phase SPDs backed with the industry leading 25 Year "No Hassle" Warranty.
For best protection applications, contact us today!

Our gear is... often imitated... but rarely duplicated...
The Surge Stops HereTM
Get the Right Gear!TM

Return from Split Phase and Single Phase Surge Protectors to Best Surge Protector Home