Surge Protector Comparison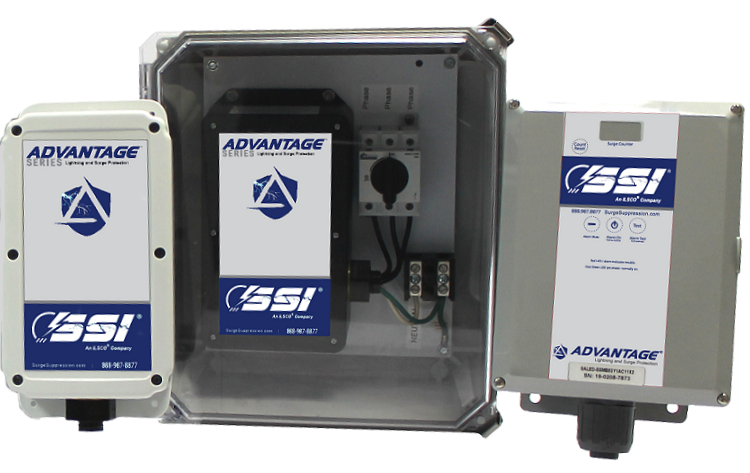 3-Phase Surge Protectors
Note: Our SPD manufacturer (SSI) provides surge protector comparison testing via surge generator and industry standard surge test protocols. Test results include scope shots, scope data and summary.

SSI tests and has tested numerous name brand and lesser known competitor SPDs (Total Protection Solutions, APT, Square D, Erico, LEA International, Innovative Technology, Eaton, Current Technology, AC Data, Raycap, Joslyn, Redi-Volt etc.) at their CSA ANSI/UL 1449-2006 certified testing facility in Brooksville, FL. They also conduct device testing for attendees during IEEE accredited Continuing Education Seminars/Courses.
These courses also discusses current SPD designs, protection modalities, surge environments and other related subject matter. The course is open to engineers, building managers, executives, electricians, maintenance managers and the like. If interested in attending a seminar near you to learn more about SPDs and/or to gain continuing education credits in the future click here.
Surge protector comparisons can be difficult, especially if you want to discuss product literature/marketing performance claims vs real world application install. Product spec sheets can be helpful if you are familiar with product nomenclature, however, they call it marketing material for a reason.
Performance claims can be tough to verify, especially if you don't have a surge generator to test the SPD via test protocols to validate marketing claims.
After all, the performance claims are usually why you buy one product over another isn't it? And when it comes down to it, don't you want to make sure your purchase performs as advertised?
Otherwise, why buy it?
High Performance SPD vs. Average Marketplace SPD
Why choose High Quality, High Performance SPDs over other SPDs…?
High Quality, High performance SPDs offer:
Multiple Redundancies
Multiple Fusing Stages
Multiple Connection Capabilities
Multiple Disconnect Options
Multiple Enclosure Options
Multiple Status Notification Options
Encapsulation Technology
These compact sized, solid-state constructed SPDs deliver:
Greater Quality
Greater Performance
Greater Protection
Greater Life-Cycle
Greater Warranty
Greater Value
From our experience, high quality, high performance surge protectors are better options then the average, commodity driven SPDs found throughout today's market place.
Plug-In SPD Comparison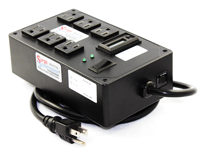 Plug-In Surge Protector
It doesn't matter if the SPD is a panel application unit for your business, a whole home unit for your house or the everyday direct connect outlet surge protector.
Circuitry used, quality of components and type of components in devices are important. Many times, a number of these components may be similar.
However, combining components, number of components and overall design approach are typically the point of quality and performance separation.
Depending on how effective and dependable a protection device you want, you have different choices of design available.
Below is a simple example of three different outlet surge protector units that were used to protect the power side of a general home network. All three units use similar concepts and some similar components to achieve protection.
This surge protector comparison demonstrates differences in SPD equipment designs, their marketing claims and unit performance through a very basic test...
Real world application.
In The Field Application: Real World Comparison
This comparison is called in-use or real world. This is the result of three different units put in-use over a 5 year time span to protect the power side of home network electronics.
Again, the units in this surge protector comparison use some of the same components and have similar protection claims. However, the results were not the same.
In two of the three cases... a protected piece of equipment failed.
All three units have:
6 Outlets
3-Foot Cord
120 Volt/15 Amp Circuits
Basic Unit Marketing:
Unit 1: Surge Protector – Computer/Electronics Protection
Unit 2: 585 Joules - 36,000 Amps Maximum Spike Current; Includes EMI/RFI Filtration, All Mode Protection
Unit 3: Discrete All Mode Protection - 60,000 Amps Peak Surge Current; Includes Frequency Responsive CircuitryTM  often referred to as Enhanced SineWave Tracking.
Units were sold as electronics protection gear.
First unit was purchased from a Big Box electronic store
Second unit was purchased from a Computer Store
Third unit was purchased from the manufacturer
Equipment protected:
Two PCs
Two Monitors
One Laser Printer
Three different Cable/DSL Routers (one at a time)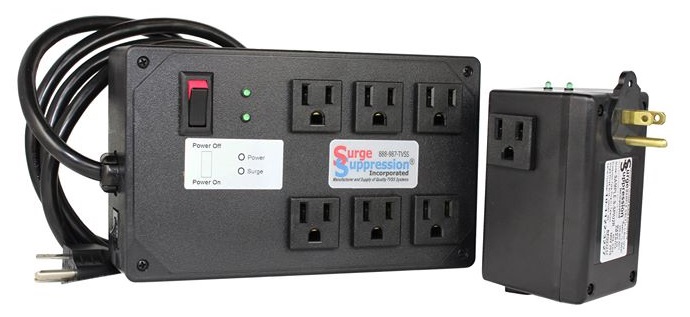 Surge Protector Comparison Results
Remember, depending on how effective and dependable a protection unit you desire, you have different available choices.
Quality and quantity of components, types of components used and quality of design, determine overall device effectiveness.
Again, this is true for both TVSS Panel Surge Protector devices and plug-in units.
All surge protectors are not created equal. Although at times, marketing material and performance claims seem to take you in that direction.
Some product marketing materials are accurate and some are not so accurate. How the product works when in use or when installed is whats important.
Remember... all three plug-in units were marketed as... electronics protection.
Real World plug-in power surge protector comparison results.

Return From Surge Protector Comparison to Best-Surge-Protector Home