High Performance Travel & Laptop
Surge Protector Devices

High quality, high performance laptop surge protector and travel surge protectors?
Yes... We have them.

Now you can too...
Today, with the increased popularity and flexibility of the iPad, Kindle and notebook computers, it's the best option to make sure you're taking protective precautions. Safe-guard your sensitive equipment from damage that can be caused by unexpected power surges.

Using our High Quality, High Performance portable devices are a great option.
Don't rely on the switch-mode power supply unit that accompanies your computer power cord to save you - or to even help...
Because it won't.
The switch-mode power supply can be the weakest link of your entire computer equipment's accessories.
Should an electrical surge happen, damage to the power supply can occur, as well as damage to the connecting laptop, Kindle, iPad or notebook computer.

This is why protecting the incoming power to your notebook computer, iPad, Kindle or laptop is so important. 
It's your best protection option. Don't take chances...
You never know when or where you may need to plug-in your device. It can be very difficult if not impossible to know how clean or dependable the power is at any particular location at any given time.

2-Plug SPD
A dead battery can be frustrating. However, nothing could be worse than plugging a computer or other device into an outlet at the local coffee shop, restaurant or bookstore... and a short time later that device takes a hit from a power surge.
That will be very frustrating and very expensive...
Don't let that happen.
Use the right travel and portable surge protector to provide your equipment the right protection.
It doesn't matter if you're looking for a travel SPD to use when you're on the road, or looking for an SPD to use at home - we offer the right High Quality, High Performance device.
Don't choose just any protection equipment for your notebook computer, laptop or communication devices.
Use an SPD that will deliver real results and provide piece of mind. Our laptop surge protectors will reduce a 2000 volt... RingWave Surge... to 37 volts... That's High Quality Protection.
Laptop Surge Protector Design

Our portable, travel devices are a direct plug-in, two outlet/receptacle surge protector.
These units offer:
True All-Mode Protection
60kA Peak Surge Current
Series Wired, Parallel Connected, Hybrid Design
Component Level Fusing
Phase Level Fusing

Enhanced

Frequency Responsive CircuitryTM (Optional)
Coax/Data Line Protection (Optional)
Voice Grade Line Protection (Optional)


Our unique design provides for the ultimate in performance, durability, safety, protection and ease of use. 

Units available in standard 120 Vac - 15A configuration.
Traditional, corded, six outlet, home and business models with similar design and data protection options available as well.
All High Quality, High Performance SPDs come with our industry leading "No Hassle" 25 Year Warranty.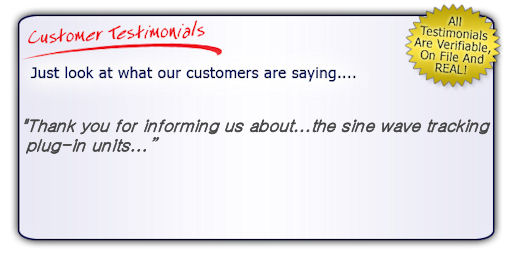 Using the right laptop surge protector equipment will deliver results and give you piece of mind.
Plug-in your iPad, Kindle or notebook computer equipment with confidence at home or on the road.
Protect your travel and portable electronic investments with the best SPD options available...
The Surge Stops Here.

Get The Right Gear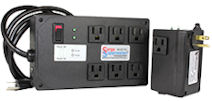 Traditional 6-Plug and Portable 2 Outlet Surge Protectors
Return from Laptop Surge Protector Gear to Best Surge Protector Home