Whole House Surge Protector
A Homes Best Protection Option

Residential or whole house surge protector gear has never been more important. The right High Quality SPD units provide the entire electrical system and electronic equipment protection from both external and internal transient voltage damage.
In today's home, electronics are everywhere. Home theater systems, televisions, video games, personal computers, laptops and appliances all have sensitive electronics. These are systems we have come to depend on.
Choose the protection gear... your systems can depend on...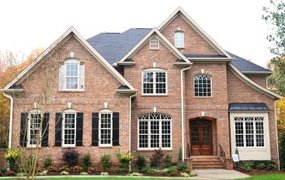 Surge Strips Are Not Enough Protection
Don't trust your...
...or other sensitive electronics... to plug-in surge protectors alone.
In our opinion, thousands of dollars invested in high tech entertainment, heating, cooling and lighting equipment should be protected with a product that costs more than $15 - $55 on average.
Surge Strips With Equipment Protection Warranty
Be careful. First, read the connected equipment warranty very closely. Next, read it again, even more closely. Things may not be quite as simple or as easy as they seem.

Surge strips are a great complimentary product to use down-line from whole house surge protector power units (and are a good start). However, used as stand alone prevention only, they are just not the best option.
A new customer experienced a lightning strike hit on a power line a few miles up the road from his home. When it was all said and done, he'd lost just about everything that was plugged-in... including plugged-in... to surge strips.
Major equipment lost because of this lightning strike included a microwave, television, oven, washer-dryer, computer and stereo. Regarding the down-line-equipment warranty, that was more trouble that it was worth.
Surge strips, even with down-line equipment warranties are not the best protection option.

Best Whole House Surge Protector Options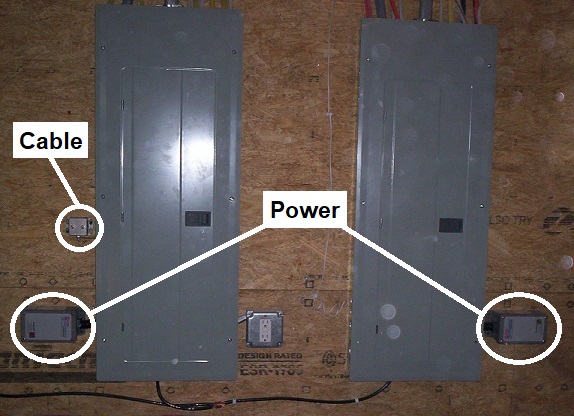 Whole House Surge Protectors: Power and Cable/Data Units
The right high quality, high performance, whole house surge protector should be installed on the service entrance power panel. This provides a homes defense against large, external surge events.
In addition to external transient voltage protection, the same unit on the service panel will protect the individual circuits (breakers) from internally generated surges that are occurring hundreds to thousands of times daily.
Note: Today, electrical and electronic products found within homes are typically built to sell. They are not built to last.
Protecting these electronics from unnecessary stress caused by external and internal transient voltage can improve equipment reliability and dependability.
However, you need the right SPD. Not all SPDs are created equal. Not all SPDs deliver the same protection results.

Get the Right Gear!

Complete Home Protection Design Includes Phone and Data Line SPDs


Experiencing Transients?
By protecting ALL incoming lines at the electrical service entrance, the entire homes electronic and electrical equipment is protected from external surges entering the structure. Plus, the right SPD provides mitigation of internally generated surges.
Protected incoming lines should include:
Power
Data, Cable, Satellite
Telephone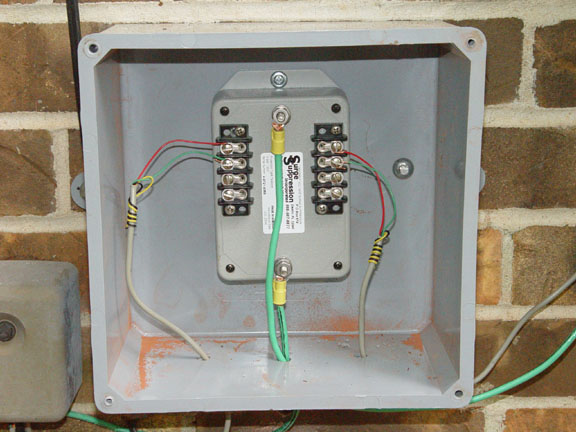 Installed Telephone Line Surge Protector
Down-line from the home service panel unit, make sure to use a plug-in surge protector for added protection.
Quality plug-in SPDs add a critical second level of defense against any let-through voltage remaining from large external surges.
With at least two layers of defense, the home is provided with a solid, overall surge protection design.
Over-Looked Appliances Receive Surge Protection

Quality, whole house surge suppressor devices help protect a home's electronics and entire electrical system from multiple types of transient voltage surge activity.
Protected electrical and electronic equipment can include:
Electric Oven
Refrigerator/Freezer
Furnace/Air Conditioner
Lights 

In other words... major appliances. Many times these products are over-looked for surge protection until they are damaged by a large electrical surge or lightning strike.

An average home with average appliances, TVs, computers, radios and other electronics can total over $15,000.00 in value. These can all be wiped out in an instant.
Whole House Surge protection is no longer an option. Installing the right SPD is essential for electronics reliability.

Protect Your Online Identity. Surf The Internet Without A Trace. 7-Day Money Back Guarantee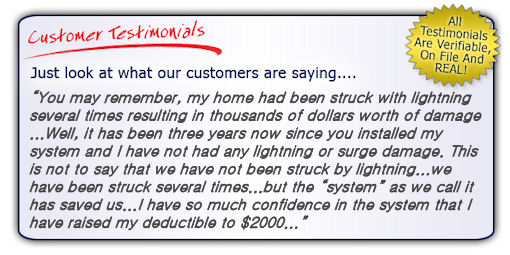 High Performance Whole House Surge Protectors

Our unique line of SPDs are specifically designed for applications and protection needs of the Residential Industry.

Top of the line RES(S) Series units are high quality, high performance devices that employ true All-Mode Protection, encapsulation technology and use a multi-stage hybrid network design.
Industry leading residential Frequency Responsive Circuitry™ available, as well as other SPD Options.
These are Light Commercial grade SPDs. The RES(S) Series are not the average residential grade SPD that flood the marketplace.

Choose High Quality, High Performance protection products. Our design, features, safety and Warranty are second to none in the industry.

Protect your home electrical and electronic systems with Whole House Surge Protector Equipment
Our SPDs are... often imitated... but rarely duplicated....

The Surge Stops Here.
Get the Right Gear!

Residential Brochure
| | |
| --- | --- |
| Whole House Surge Protector - AC Power | |
Return from Whole House Surge Protector to Best-Surge-Protector Home