Microwave Surge Protector Devices
High Quality High Performance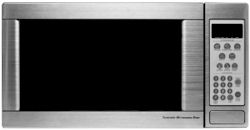 High quality, High performance microwave surge protector devices deliver real results.
NEC Update 2020: SPDs are now required for new or renovated homes.
Today, much like a conventional oven, refrigerator or other common household appliance, the microwave oven has sensitive electronic circuits that are susceptible to surge damage.
As the technology in this appliance continues to improve, the size of those electronic circuits continue to decrease. With the decrease in circuit size, there's an increase in sensitivity to voltage and frequency changes.
It doesn't matter if its Whirlpool, GE, Haier or other brand in a facility or home. Modern electronic designs are comparable and should be protected from both external and internal transient voltage.

Avoid preventable repair or replacement costs. Install the Right SPD in the Right Locaction to get the Right Results.

Get the Right Gear!
Best Microwave Surge Protector Options
The best protection option is to install a high quality, high performance surge protector on the service entrance panel.
This provides first level protection for the entire electrical system. Commercial facilities, small business and homes will be protected from external surges entering the structure. If the microwave is connected to a dedicated circuit, it allows for individual isolated protection from all other circuits in the facility.
Using the Right SPD will also protect against multiple types of surge damage. Not all SPDs provide this. Protecting the main service panel protects the electrical system, microwave and other appliances with one device.
If the microwave is fed from a secondary panel, consider applying an SPD there as well. This provides a layered protection design and is recommended by IEEE. Although not the best option, if panels are without SPDs, a High Performance Plug-In SPD can be used for stand alone protection for qualified microwaves. Layered protection is always preferred.

Apply a Discrete All-Mode, threshold clamping SPD for basic defense. Add optional Advanced RingWave protection via Frequency Responsive CircuitryTM  for Full Spectrum Protection.

Protect Your Online Identity. Surf The Internet Without A Trace. 7-Day Money Back Guarantee
High Quality Surge Protector Design

Our panel SPDs provide True Discrete All-Mode Protection with a multi-stage, hybrid network design. These devices include circuit encapsulation technology with optional Frequency Responsive Circuitry™.

Frequency Responsive Circuitry™ provides the industry's best RingWave suppression technology available. With FRCTM included, Full Spectrum Protection can be achieved. Not many SPDs provide High Quality, RingWave protection designs. Ours do.

All High Performance SPDs include industry leading 25 Year "No Hassle" Warranty..

Install High Quality, High Performance microwave surge protector devices that deliver Full Spectrum Protection.
Our gear is often imitated... but rarely duplicated...
The Surge Stops Here.

Get the Right Gear!
2020 NEC Update: Residential SPDs
| | |
| --- | --- |
| Panel Mount High Performance Microwave Surge Protector | |
Return from Microwave Surge Protector to Best Surge Protector Home