High Quality High Performance
4-20mA & Current Loops Surge Protector


Use current loops surge protector devices to help prevent damage to 4-20mA Current Loop and Low Speed Data Circuits.

Typically found in industrial and commercial environments, 4-20mA and Low Speed Circuits are often used for sending and receiving signals for data collection.
These signal systems typically monitor or control such processes as measurements of pressure, temperature, moisture water flow and water levels. In many cases… these low speed signals are 4-20mA circuits.
Many of these circuit types can be found in service anywhere from aggregate plants and waste water treatment plants to parking lots, security gates, security door systems as well as other low voltage applications.
Like other data transmission circuits, these Low Speed Circuits are highly sensitive. Care should be taken to protect against damaging transient voltage that can occur from weather or internally related occurrences.
Reduce and prevent system disrupts and equipment damage with the proper protection equipment application.
Don't use just any surge protector gear. Use gear that delivers results.

4-20mA Current Loops Surge Protector 
Designed For Quality and Performance

If your business or facility depends on the use of sensor devices including leak detectors, flow meters and transducers (among others), placing the right surge protective gear between the sensors and your equipment is critical for maintaining your systems smooth operation.
By protecting your Low Speed Data circuits, equipment life is typically extended, maintenance costs reduced and increased productivity can result. Reduction or prevention from catastrophic event damage, such as nearby lightning strikes... can be mitigated... if not eliminated.
If you demand quality, performance and results from your Low Speed Data Circuit SPD's, our current loops surge protector models are the right gear for you.
Our units are a hybrid-designed, series wired device. They provide true Discrete All-Mode Protection and include our Optimal Response Circuitry ™.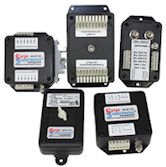 Data and Current Loop SPD's
All suppression circuits are coated with our encapsulation technology. This technology is a high dielectric compound to assure long component life and protection from the elements and vibration.
This combination of design techniques provides your protected equipment with some of the lowest let-through voltage of any 4-20 mA or low speed data surge protector on the market.
Operating voltages range from 5 to 140 Volts with maximum data rates of up to 2Mbps.
All of our units are High Quality and High Performance devices.
Units are backed with our 10 Year... or our Industry Leading... 25 Year "No Hassle" Warranty.
Protect your Low Speed Data Circuits with the best surge protection options.
Our gear is... often imitated... but rarely duplicated...

Get the Right Gear

Company Brochure
| | |
| --- | --- |
| 4-20mA SPD | |
Return from Current Loops 4-20mA to Best Surge Protector Home