Lightning Damage

Lightning damage can be very severe, very unpredictable, very costly and can occur more often than most realize.

According to the 2023 report from The National Lightning Safety Institute, lightning damage is responsible for up to $5 billion in losses annually. These losses include both business and residential scenarios.
Much of the lightning damage is to electrical systems and electronic equipment. Much of this damage could have been avoided or mitigated with the proper application of lightning surge protection systems.
Using the right surge protection products, placed in the right locations, with the right installations, are an integral part of a lightning surge protection system. It's important to understand, not all SPDs provide the same level of protection.

The pictures below show real examples of damage resulting from unprotected electrical and electronic systems.
Since the occurrence of this damage, measures have been taken to protect these and additional systems using High Quality, High Performance surge protection equipment.
Sensitive and Critical Electronics Lightning Damage

---
Using the best surge protector options could have protected against these lightning induced damages.
---
---
The two images above are front and back views from a damaged circuit board. Notice the burn in the lower left corner of the left image. The second image shows the same damage from the back side of the circuit board.
---
---
These two images show a similar circuit board with different damage. Like the previous pics, the images are views of both front and back. Notice the burn damage on the center circuits near the bottom of both circuit board images.
---
The above examples represent thousands of dollars in equipment damage alone. Not included were down-time, repair costs and lost revenue. Altogether, this preventable damage and related costs reached tens of thousands of dollars.

Preventative action should be taken to protect electrical equipment and electrical systems by installing Lightning Surge Protectors. However, they need to be the Right SPDs in the Right Locations to deliver the Right Results.

Get the Right Gear!TM
High Performance Lightning Surge Protectors
Protecting against large transients, especially lighting strike events, robust surge suppressors with high kA ratings, Discrete All-Mode-Protection and Circuit Encapsulation provide a distinct advantage over competing devices.
Our SPDs are specifically built for lighting protection applications. 10-Mode, Data Line and Advantage® Series are High Quality, High Performance. Units employ True-All-Mode Protection with Optimal Response CircuitryTM . SPDs are a multi-stage, hybrid network design and include patented Encapsulation Technology. 
Industry leading Frequency Responsive Circuitry™ option is available with power product lines. When included, advanced FRCTM technology delivers Full Spectrum ProtectionTM that others can't. Contact us today.
Had the right High Quality, High Performance SPDs been installed, the above lightning damage and related costs could have been prevented.
Our gear is often imitated... but rarely duplicated...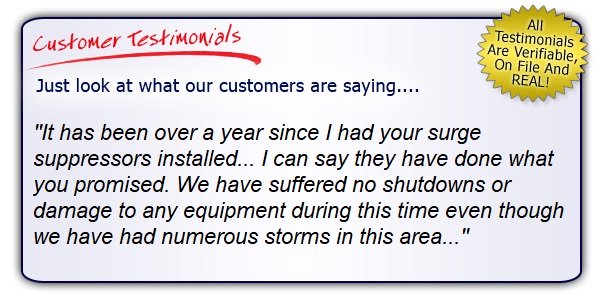 The Surge Stops HereTM
Get the Right Gear!TM