Solar Power Inverter Surge Protection

Surge Protective Device (SPD) applications for Solar Power Inverter equipment provide critical protection from the dangers of transient voltage damage.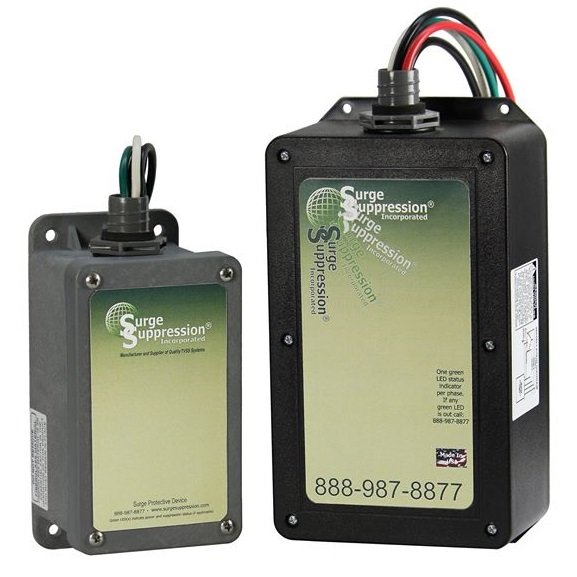 Multi-Phase Solar SPDs
Solar and wind power, by nature, are intermittent. If a system is balanced to accommodate solar load, even a stray cloud can destroy that balance. Wind can gust from 0 to 60 mph in less than one minute, causing substantial voltage spikes and disturbances.
Although Inverter Designs are different for solar and wind applications, they are key components in both systems.
The inverter converts DC power generated by solar panels or wind turbine into usable AC power that is synchronized with the grid-tie system, which powers the electrical system in a stand-alone or battery storage design.

However, Inverters are full of electronics. Their purpose is to synchronize AC power with the grid-supplied power. Failure of inverters is unacceptable since the energy generation systems rely on them to properly function.
Solar panel installations require surge protection to protect costly inverters that can fail during lightning storms. Wind Turbines require surge protection to protect voltage regulators and motor driven generators. SPDs protect critical inverters on both the output (AC) and input (DC) electronics.

Multiple Types of Solar Power Inverters
Inverter equipment is constantly improving. Today, devices can have additional functionality. This improves overall capability compared to simply converting DC to AC.
Solar Power Inverter Application Choices can include:
String Inverters
Central Inverters
Micro Inverters
Battery Based Inverter-Chargers
Get the basics about Solar Power Inverter Options.
Regardless of design type or function options, these critical pieces of solar equipment need High Quality, High Performance SPDs.

Get the Right Gear!TM
The Right Solar Power Inverter SPDs: Power & Data Line

Solar Power SPDs are designed for commercial, industrial and residential applications. Advanced Technology, industry leading design and multiple options allow for the most versatile SPDs in the industry.
High Performance Inverter Power SPD Design can include:
Optimal Response CircuitryTM
Multi-Stage Frequency Responsive CircuitryTM
Multi-Stage Voltage Responsive CircuitryTM
Multi-Stage Hybrid Network
30kA - 900kA Per Phase PSC
200 kAIC
ISO 9001 Certified Manufacturing (NQA)

UL1449 4th Edition, UL1283, CSA
True Discrete All-Mode Protection
Component-Level Thermal Fusing
Patented Internal Circuit Board Mounted Over-Current Fusing

Patented ElectroChemical Encapsulation Technology
Solid State Construction. NO MOVING PARTS

Full Spectrum ProtectionTM
Parallel, Series and Kelvin Connection Options

Local Diagnostics

Remote Diagnostics

Industry Low Let-Through Voltage (MLV)
2 Receptacle or 6 Receptacle
AC or DC Applications
No Hassle Warranty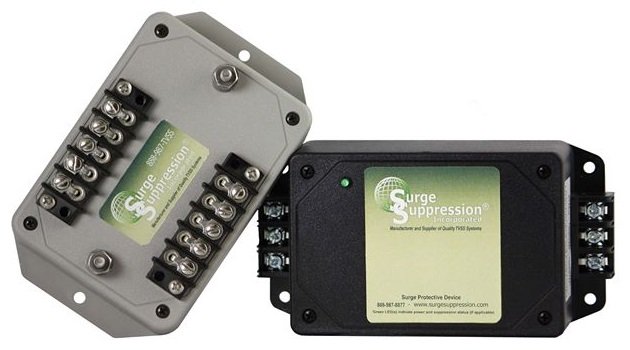 SG Series Power and Data Line Surge Protectors
In addition to reliability and versatility, Solar System Power and Data Line SPDs deliver superior performance specs and warranty. For more information, please contact us.
Industry Leading Technology: Get the SG Advantage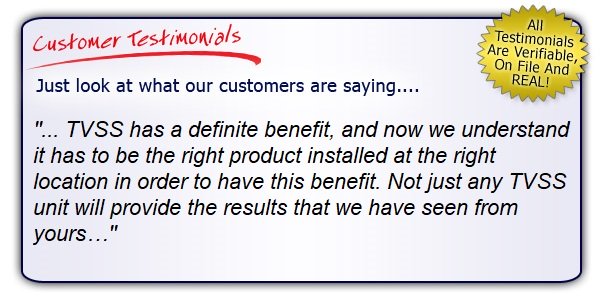 Get the industries most advance technology with the largest selection of SPD Options.
10-Mode, Data Line and Advantage® Series units are High Quality and High Performance. These devices are the most complete Solar System SPDs available.
Industry leading Frequency Responsive Circuitry™ delivers Full Spectrum ProtectionTM for critical electronics. Few Solar Power Inverter SPDs provide complete RingWave protection designs. Ours SPDs Do.
10-Mode, Data Line and Advantage Series® are backed with industry leading 25 Year "No Hassle" Warranty. For more information, Contact us.

Our gear is... often imitated... but rarely duplicated...
The Surge Stops HereTM
Get the Right Gear!TM
Product Videos

Manufacturer Brochure
Return from Solar Power Inverter Surge Protection to Best Surge Protector Home