High Quality High Performance
Coaxial Surge Protectors

High quality, high performance, coaxial surge protectors help protect sensitive data and signal transfer equipment from damaging transient voltage. Unfortunately, far too often these communication lines and equipment are over-looked when implementing SPDs.
Don't make this mistake. Use SPDs that deliver results. It's the best Protection Option.

Our coaxial cable surge protectors offer multiple connection methods for just about any specified application. Our SPDs are built to perform and built to last...

Commercial and Residential Coaxial Surge Protectors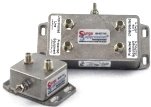 The Most Common And Familiar Location for Usage:
Closed-Circuit Television (CCTV)
Community Antenna Television (CATV)
Cable TV
Internet Service (Thin Ethernet)
Satellite TV Systems
Common Connected Sensitive Equipment:
Cable TV Equipment
Satellite TV Equipment
Network Equipment: Modems/Routers
Radio Equipment
Line Connector Type and Typical Use:
BNC – Various Radio Frequency Instruments
UHF – Amateur Radio, Some Video
F – Internet, Cable and Satellite TV
N – Broadcast Equipment
Coaxial data lines can be at high risk for serious equipment damage caused by lightning activity. This is because coax cables typically have external exposure to a facility or home due to the type of equipment they are connected to.
Examples of equipment with exterior exposure that coax typically connects to can include:
Satellite Dish
Cable Tv Box
Security Cameras & Systems
Audio/Visual
Because of the external exposure it's important to protect these data lines with the best options available. It's even more important to protect these access points with the right gear, placed in the right locations to get the best surge protection results.
High Performance Coaxial Protector Design
Our SPDs deliver high performance protection...
SPDs are True-All-Mode protection. Units are a series wired, hybrid, low capacitance design featuring our Optimal Response Circuitry™. This combination provides for the lowest let-through voltages possible.
These design features deliver a higher quality and higher performing SPD.
Specific units are built to meet UL96A: Master Label Lightning Protection Compliant.

Additionally, many SPDs include the suppression circuits encapsulated in a patented, high dielectric compound. This technology not only assures long component life, but helps provide protection from harsh elements, vibration while improving circuit reliability and performance.

Protection Features & Options can Include:
Data Rates to 1.5 GHz

Low Impedance/Insertion Rate

F, BNC and N Connectors (Other connectors available upon request)

Industry Leading Let-through Voltage Performance

Series Connected Dedicated Load Circuit Protection 

Compact Size

Discrete "All Mode" Circuitry

UL 497B Listed

UL 96A Compliance Option



Multiple High Quality, High Performance Coaxial Surge Protectors
These High Quality surge protector units are supported with a "No Hassle" 10 Year Warranty or Industry Leading 25 Year "No Hassle" Warranty.
Installation of the units is a breeze. The SPDs are typically mounted at the main service entrance area closest to the system ground or nearest the ground connection of the individual equipment to be protected.
Using the right High Quality, High Performance coaxial surge protectors will make sure the data and signal transfer equipment continues to operate when other devices fail.
Our gear is... often imitated... but rarely duplicated...
The Surge Stops Here.

Get the Right Gear!

Company Brochure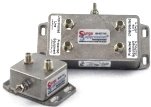 Return from Coaxial Surge Protectors to Best Surge Protector Home