High Quality High Performance
Security Camera System SPD's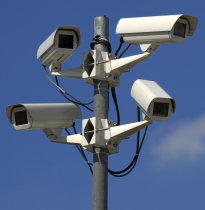 Security camera systems are growing in popularity and their technology is growing and advancing as well.
As this technology advances, the circuits inside the equipment you depend upon to provide surveillance become increasingly intricate and more sensitive to electrical disturbances.
Security cameras with external exposures are at the greatest risk. Equipment used for parking lot, premise or exterior building monitoring are the very circuits and devices that can be most susceptible to transient voltage damage.
Numerous types of surveillance camera units and systems are available on the market today and in service… so the amount of damage incurred by these systems is mounting as well.
Annually, damage caused by transient voltage costs business and homeowners millions upon millions of dollars.

Make sure to protect your surveillance investment dollars with the best surge protector options for your business or home security systems.
Don't take chances with your equipment or the gear protecting it. If you demand results we have the gear.
Don't settle for anything less...

Top Quality Protection For Security Camera Systems

Our surge protector equipment provides a hybrid network design, incorporating all-mode protection using our Optimal Response Circuitry™.
Many of our units are designed with the suppression circuits encapsulated in a high dielectric compound to assure durability and long component life. This encapsulation helps provide protection from harsh elements (rain, snow, sleet etc) as well as from any vibration that may occur.
These unique devices can also provide complete protection for both fixed mount camera units and fixed mount camera units with Pan-Tilt-Zoom functions.

Our units can also provide power, video and data protection in one high performance unit - or they can be individual protection units for each separate protection need. Each situation may be different requiring different options.
Regardless of the system configuration, we aim to provide the best options available.
Power Video-Data SPD
Our newest protection devices protect speeds up to 1 GB and are for use with PoE - Power Over Ethernet. Unit types can be designed for either exterior or interior environments.  For more information about these designs, see the Cat6 PoE Brochure below.

We can also provide SPD's that are UL96A - Master Label Lightning Protection Compliant - should your project or building require that certification.
All of our high performance units are backed with our 10 Year "No Hassle" or our Industry Leading 25 Year "No Hassle" Warranty.
The right High Quality, High Performance surge protector can help keep your surveillance providing systems... providing surveillance.
Use the best surge protection options for your electronic equipment and electrical systems continued functionality. Our gear is backed with 30 years of experience and the industry's most admired warranty...
If you have any questions, simply contact us here.

Our gear is... often imitated... but rarely duplicated... The Surge Stops Here.

Get the Right Gear

Company Brochure
Return from Security Camera Systems to Best-Surge-Protector Home