High Quality High Performance
HDTV and Home Theater SPDs
High end digital televisions and home theater systems need quality surge protection.

HDTV models can run from $400.00 for a 19 inch LCD to $1,400.00 for a 65 inch LCD.

Rear Projection Smart Laser TV's can reach around $7000.00.

Include a DVD player, surround sound, video game system, cable or dish receiver, Fire Stick or other electronic devices... and the next thing you know, you have yourself a huge home theater investment.
Protect your entertainment investment from damaging voltage surges - both external and internal with the best home theater and HDTV surge protector options.
Best Surge Protector Options: HDTV & Home Theater

High Performance Plug-In SPD
Investing large amounts of time and money into an entertainment system, surge protection design should be more than a single point protection unit. A single SPD is not the best protection option, especially if that protection device is a surge strip device.

The best protection option is a multi-level or cascade design approach.
Using a cascading approach for the power provides the ultimate in home entertainment and theater system protection. This provides at least two levels of surge protection vs. a single point of protection at the outlet.
Placing a high quality, high performance whole-house unit on your service entrance panel protects the entire building from large surges including nearby lightning strikes, grid switches or system faults.

It's recommended to follow up the panel unit installation with individual plug-in protection units to provide a secondary level of defense.

Benefits of Applying Cascade Protection

All surge suppressors have "let-through" voltage. Let-through voltage is what remains after the surge suppressor reacts to a surge event. Depending on the size of the surge event, remnant voltage of various sizes can pass into the system.
The quality of surge protective device applied also affects the amount of remnant voltage passing into the electrical system.
A quality, secondary SPD plug-in unit placed down-line from the service panel or sub panel device is designed to pick up the remaining damaging voltage that can occur after a large external surge event.

Only deploying a single layer of protection can result in the remnant voltage hitting sensitive electronics causing extensive damage. A multi-layer or cascade protection approach is designed to mitigate this possibility and provides the best surge protection options.

For best surge protection practices, it's also recommend to protect any incoming data or telephone lines as well.
Get the Right Gear!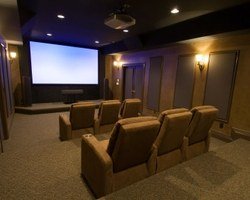 Home Theater System Protected by High Quality, High Performance SPD's
High Performance HDTV & Home Theater SPD Design

Don't be fooled.

Not just any off-the-shelf SPD will deliver the results our units do.
Protect your home entertainment investment with the best protection options available.

Choose High Quality, High Performance surge protection gear.
These unique SPD designs provide Discrete All-Mode Protection and employ a multi-stage, hybrid-network design. All suppression circuits include patented encapsulation technology.

Include optional Frequency Responsive Circuitry™ for the ultimate in protection. Frequency Responsive CircuitryTM delivers the industry's best RingWave suppression technology.

All High Performance units offer high quality options and include a 10 Year or Industry Leading 25 Year "No Hassle" Warranty.  
Our Surge Protective Devices are... often imitated... bur rarely duplicated...

Get the Right Gear!

| | |
| --- | --- |
| Whole House HDTV Surge Protector | |
Return from HDTV to Best-Surge-Protector Home