High Quality High Performance
Telephone Line Surge Protector Devices

Use high quality, high performance telephone line surge protector gear and get real results for your business or home equipment.
Choosing the right surge protector makes a difference. If you are serious about protecting your equipment's external power surge exposure...we have the right gear.
Annually, damage caused by transient voltage over unprotected telephone lines costs business and homeowners millions upon millions of dollars.
Down time, loss of production and repair or replacement costs don't have to be part of - the cost of doing business.

This damage can be - at the very least - mitigated. When properly configured against, the damage can even be prevented.
Don't take chances with your equipment or your bottom line.
Protect Your Online Identity. Surf The Internet Without A Trace. 7-Day Money Back Guarantee
Types of Equipment Or Telephone Circuits That
Need Telephone Line Surge Protector Units

A good rule of thumb for applying proper equipment protection is - apply devices to any telephone lines that have external exposure. This also protects the connected equipment to those lines that also are at risk for damage.
The importance of this type of protection can not be understated. Phone lines are a direct connect to your communications equipment from outside damaging forces.
For commercial and industrial business, these lines can include telephone line runs between buildings and lines entering the facility from the utility at the demarcation point. If a network interface unit is used and owned by the business, additional TVSS units are recommended.
General equipment types to protect:
Telephone Instruments
Fax Machines
Multi-Function - Biz Hubs
PBX Systems
NIU (Network Interface Unit)
Alarm System Telephone Lines
Computer Systems
Types of telephone circuit (lines) connecting equipment types:
Small business and home electronic equipment exposed to transient voltage risks across exposed telephone lines can include: computers, phones, faxes and PBX systems.
It doesn't matter if you own a business, are a homeowner or are both. Properly protecting your telephone lines is a prudent step to take to keep your equipment, communication and signaling systems safe.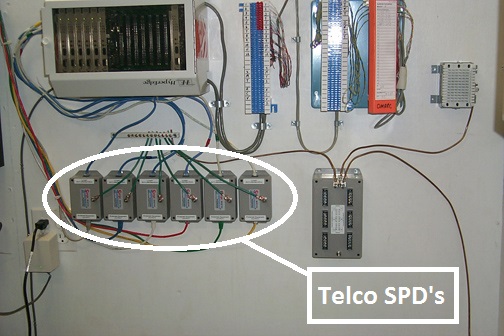 The Right High Quality Telephone Line SPD's
Our telephone surge protectors employ a multi-stage-hybrid design and protect data rates up to 100 Kbps.
These units are available with...
Terminal Strips
Wire Connect
Jack Options:  RJ45/14/11
Punch Down Block configurations (5-25 lines)
Units also have DIN Rail mount and other SPD Options available.
All High Performance units are backed with a 25 Year "No Hassle" Warranty.
High quality high, performance gear will keep your communication carrying lines and systems carrying communications.


Don't choose just any phone surge protector equipment. Use telephone line surge protector units that deliver real results.
Our gear is... often imitated... but rarely duplicated...
The Surge Stops Here.

Get the Right Gear
Product Brochure
Return from Telephone Line Surge Protector to Best-Surge-Protector Home